Cheap Thrills | Sex With "The Harlot"
$ 21.45 (CAD)
 A Better Helping Hand

Your New  Friend in 2023
Description
 Sex With  "The Harlot"
 Cheap Thrills Harlot  Masturbator  is your "go to"vagina sleeve ,designed to indulge you in thrilling wet dreams and explosive endings.
 Indulge Your Fantasies In the Comfort of Your Own Home

Your Temporary Companion
GET NAUGHTY: Enjoy partnerless sex  with ourur Cheap Thrills Harlot masturbation sleeve; a tight, life like male stroker meant to thrill with every stroke; Wrap yourself up in a thrilling erotic fantasy with the your Harlot's textured interior and sensational closed end suction chamber
LIFE LIKE PLEASURE: The indulgent, life like sleeve has an anatomically correct, textured chamber to stroke you into absolute ecstasy; When used with ample lubricant, your Harlot gives you toe curling stimulation worthy of your wildest fantasies.

ON THE GO STIMULATION: Our compact, 4.75" sleeve is the ideal traveling pleasure companion; Pack your Harlot up, and show her the world by slipping her into your suitcase or bag for a heavenly, realistic feeling stroking experience wherever you go
Slide through the stretching yet tight vaginal masturbator made of sensational material. Open end for superior suction with a multi-textured stimulation ,"The Harlot" is soft tight and stretchy in other words – it's the perfect match for any man.
Getting Extra "Oomph" With a Cock Ring
Whether you are engaging with a human partner or a stroker, you can squeeze a little more out of the tank with s a selection of Cock Rings, (Silicone for bigger, harder, longer) which we have recently added to our  Toy Box.
CalExotics- Set of Three- Textured.
Your Cheap Thrills masturbator makes easy packing for overnight trips. You won't need to hire a sex worker for this kind of  sexual release, since she will do the release for you.  Over the last couple of years,men have had to adjust some sexuality because of the closeness and risks of close contact breathing .
As well, Cheap Thrills Harlot will be the perfect temporary companion for those who are shut in, or otherwise suffering from limited mobility. Human sexuality should be available to every human, regardless of their mobility status.
More Thrills
See all of them  in our Cheap Thrills selection
Specifications :
Ultra life-like pure skin material
Maintenance free
Phtalate free
Material-TRP (Rubber)
Follow The Links for More Cheap Thrills
We have recently added a range of  "Strokers" to our product lines. These are of great appeal to the guys-on-the-go, who may lead a busy lifestyle, yet do not have the time, or are currently without partners; which is even more prevalent during the times of a pandemic.
 Cheap Thrills  Masturbators by CalExotics are designed  for the economy-minded  vaginal stroker; the others, in the same price range are: Rollergirl, and The Cheerleader

A Healthy Addition to Your Toy Box
Your first time with this silky, super tight sleeve will definitely not be your last, so look forward pleasure that is all about you time and time again. Since 1994, CalExotics has been the world's leading pleasure products manufacturer and is dedicated to being a consumer-friendly brand for men and women. We understand that to truly encourage sexual wellness, the intimate toy industry needs to create products that enhance pleasure in your everyday life and cultivate a happier and more satisfied you. CalExotics has taken the very limited intimate toy options from the past and created a world of pleasure products for men, women and couples. By revolutionizing the way we see intimate products, CalExotics has been able to help everyone find confidence in their sexuality and promote sexual self-awareness. At CalExotics, we want you to expect more. Expect more passion, expect more romance and always expect more fun.
The Job Isn't Done Until The Cleaning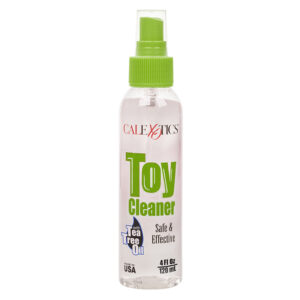 Even Partnerless Sex can be a bit messy. Just before you've put The Harlot away, be sure to clean her up before the next use. We have the accompanying  CalExotics sex toy cleaner so that you can clean up your sex toys, an maintin a germ-free environment (for your safety/protection).