Cheap Thrills Male Masturbator Strokers
Enjoy Cheap Thrills Masturbation Stokers from CalExotics. the ultimate home alone and safe sex enjoyment. You can ask a partner to participate, or let your own hand manage the control, and indulge the ultimate in a thrilling wet dream and happy ending.
The erotic stroker has an inviting super tight parted lips opening and an internal chamber that delivers intense suction and satisfaction. To experience ultimate ecstasy, slide your shaft deep inside and allow the pliable chamber to engulf you. Apply stimulation by sliding and gliding the sleeve back and forth. To extend your orgasmic enjoyment always use a quality lube with this toy. The chamber is ideal for first-time and experienced users, and perfect for indulgent self-gratification. Before and after play, clean the textured stroker with a toy cleaner spray or wash in mild soapy water.
Best of all: you have so many choices of  Cheap Thrills: There are 10 of them in the series. Some are vaginal. Others are anal.
Naughty Nurse- Night and day, she is always on shift.
Rollergirl: Ahead of the Pack Anal Delight
The Cheerleader– Giving you the team spirit.
The Flight Attendant– Just you in the upright position
The Teacher: Your handy detention.
The French Maid : The perfect butt to dive into.
The Mechanic: She'll tighten a few nuts. Parking in the rear.
The Farm Girl: Ploughing the lower 40 just got easier.
The Harlot:She'll torment you any time.
The Showgirl: What happens in your bedroom stays in your bedroom.
Your "On Call" Delight
GET NAUGHTY: Our Cheap Thrills Male Masturbators are a tight, life like male stroker meant to thrill with every stroke; Wrap yourself up in a thrilling erotic fantasy with the naughty textured interiors and sensational closed end suction chambers

LIFE LIKE PLEASURE: The indulgent, life like sleeve has an anatomically correct, textured chamber to stroke you into absolute ecstasy; When used with ample lubricant, this stroker gives you toe curling stimulation worthy of your wildest fantasies.
FREE Masturbation Cream
Note: with any online purchase of Cheap Thrills strokers, we'll include a sample pack of Stroke 29 masturbation cream.
TEASING TRAVEL COMPANION: Our compact, 4.75" sleeve is the ideal traveling pleasure companion; Pack your personal stroker up and show her the world by slipping her into your suitcase or bag for a heavenly, realistic feeling stroking experience wherever you go
Cheap Thrills masturbators make easy packing for overnight trips. Use at home for quality alone time, or you can still have a partner on standby for some personal attention and providing real life moans.
These are of great appeal to the guys-on-the-go, who may lead a busy lifestyle, yet do not have the time, or inclination for human contact.Over the last couple of years,men have had to adjust some sexuality because of the closeness and risks of close contact breathing .
As well, male masturbtors will be the perfect temporary companion for those who are shut in, or otherwise suffering from limited mobility. Human sexuality should be available to every human, regardless of their mobility status.
Keeping Them Clean With CalExotics Toy Cleaner …With Antibacterial Tea Tree Oil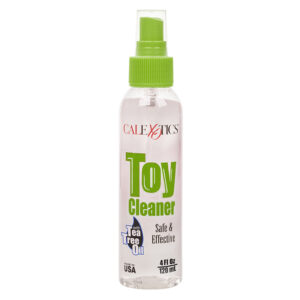 Happy Strokes For 2022